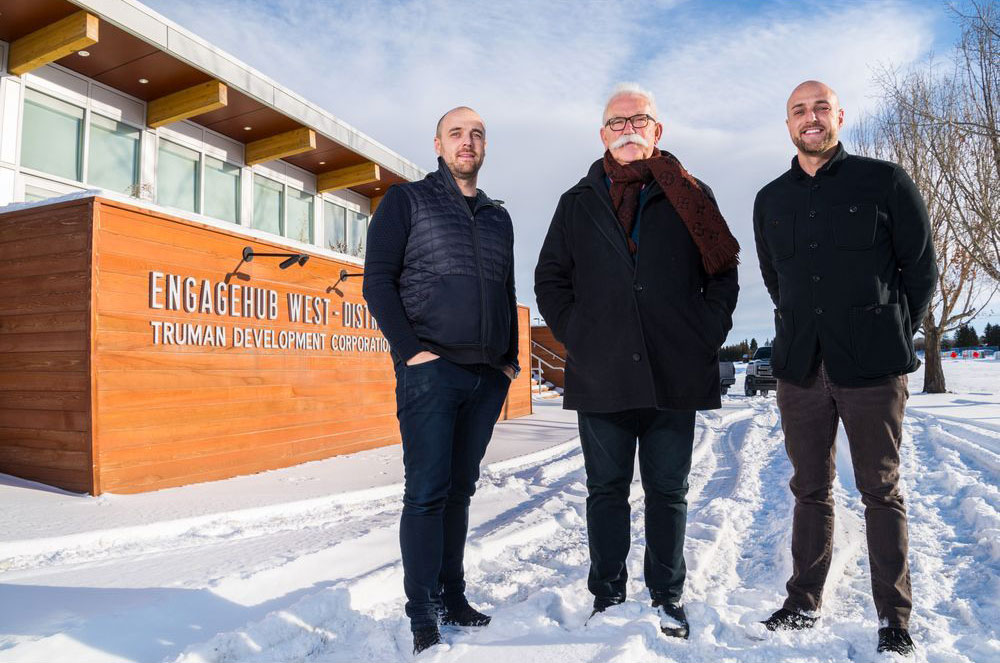 On the heels of a slower year for multi-family development in the Calgary area, there appears to be plenty on the horizon for 2017.
Truman Homes is one of the companies that will be right in the middle of it. The veteran builder is poised to open pre-construction sales on the first residential segment in its new master-planned community and a condo building in a unique project with the Kensington Legion.
Truman will also join Brookfield Residential with an on-site sales presence for University District, when a discovery centre for the major mixed-use development opens in March of this year.
"The market is going to be hit or miss," says Tony Trutina, chief operating officer for Truman, on what's ahead in 2017. He adds it'll depend on price point and location.
"We think there's a lot of opportunity here to build and sell things as long as you're building affordably and creating value," he adds.
The debut phase for Truman's planned West District community is a multi-family development, aptly dubbed Gateway.
And they're not starting off with something small, either.
It's 742 multi-family units across six eight-storey buildings and about 50,000 square feet of retail space.
Meanwhile, Truman's work with the Kensington Legion is in full swing, and the builder will open sales on the residential portion of the site later this year.
Truman is constructing a new four-storey building for the legion that measures just shy of 40,000 square feet. This includes space for a restaurant open to the public, private member's lounge, and office space that can be leased out.
"The balance of the land, after the legion is developed, where the existing legion hall sits, is where our condo site will sit," says Trutina. It's eight storeys with more 200 units and about 30,000 square feet of commercial on the main level.
University District by West Campus Development Trust is an 81 hectare community planned for 7 million square feet of residential development and 1.5 million square feet of office space.
At build out, there will be about 6,000 homes. Its opening phase builders, Truman and Brookfield, started taking holds on their respective developments Noble and Ivy, in September 2016.
Opening the discovery centre will be an important step for the community, says James Robertson, president and CEO of West Campus Development Trust.
"The discovery centre itself is about 3,500 square feet and will tell the story of University District and what it will have to offer its residents as it develops," Robertson says. Attached are bays earmarked as sales centres for both builders.
"It's a one-stop shop for living in University District," Robertson says. "People can come in, learn about the community, and if they're interested they can move right over to each of the builders that are currently selling.
"We're designing the facility to expand to accommodate an additional two builders, as well," he adds. "So as we add more development and more builders to the community, they'll continue to operate in the same way."
The residential sector of another mixed-use plan could also be busy in 2017. East Village may see pre-construction sales launch on condo towers by three developers in the fourth quarter of this year.
However, economic factors will be pivotal in determining if this continues to be the timeframe or if it instead shifts to early 2018, says Susan Veres, senior vice-president of strategy and business development for Calgary Municipal Land Corp.
Since 2007, CMLC has spearheaded the revitalization of Calgary's Rivers District, which includes the East Village.
The aforementioned developments that could sell in 2017 include Arris by Embassy Bosa, Vibe by FRAM+Slokker, and a skyscraper called Velo by Knightsbridge Homes.
All three developers have existing towers at various stages of sales and construction in East Village.
Last year, Brookfield Residential broke ground on its 519-hectare Livingston community, featuring a major activity centre and stops for the proposed Greenline LRT extension.
The community launched sales for single-family homes and street towns last year, and will soon have something for condo buyers, too.
Avi Urban will bring Maverick in Livingston to market in 2017. The development is comprised of more than 170 apartment-style condos that will "showcase our latest design ideas with a full show suite available for viewing at our presentation centre," says president Charron Ungar. "I think it's some of the best work we have ever done."
Avi Urban was named Multi-Family Builder of the Year at the Calgary Region SAM (Sales and Marketing) Awards presented in early 2016.
Buyers and builders both faced stumbling blocks in the market last year, says Ungar.
"Although sales did start to find traction mid into late 2016, changes to mortgage qualifications combined with a severe tariff on drywall negated any gains we had struggled to acquire," he says. "This led to considerable papered agreements collapsing based on a customers difficulty in sourcing a mortgage."
Starting in October, all buyers seeking high-ratio insured mortgages need to qualify for both their contract rate and the conventional five-year fixed posted rate through the Bank of Canada.
The Bank of Canada figure, generally higher than most contract rates, is the most common number advertised by the six largest banks in Canada.
"My hope is that as we transition into 2017, Albertans will find relief from this severe erosion in our housing affordability," Ungar says. "I believe our industry associations are working hard on our behalf, however, it will be up to government, both provincial and federal, to correct this issue and allow our housing industry to deliver our product at a reasonable price to Alberta home buyers."
For, Streetside Developments, the coming year is setting up to be productive from the get-go.
The builder will look to wrap construction on apartment-style condo developments Vivace at West 8th and Origins at Cranston and bring two new multi-family sites to market.
"We are eagerly anticipating the pre-sale of our new street towns in Redstone in the northeast in March, followed by the pre-sale launch of our distinctive bungalow villa product in Silverado," Streetside vice-president Richard Daley says. "We are forging ahead and will be providing Calgary buyers with the affordability and value they are looking for."
Overall, he adds, the company is "cautiously optimistic" about the city's multi-family market in the coming year.
"I expect 2017 to be similar to 2016, with possibility of improved spring and fall markets and a continued focus by the customer on location and value, along with reputation of builder," says Cardel Lifestyles president Tim Logel.
The builder had 221 sales last year, and Logel says he would "expect a similar result in 2017."
This includes a launch tentatively on its calendar for the first half of 2017.
Auburn Rise in Auburn Bay is planned for 373 apartment-style condos across five buildings. Following city approvals, the development come could on stream this spring.
Cardel Lifestyles is also the developer behind Auburn Walk, also in the southeast lake community of Auburn Bay.
Auburn Rise faces a commercial site anchored by a Co-op grocery store that opened in the community in late 2016. It's also walking distance to both the community freshwater lake and the South Health Campus hospital.
The coming year will be an important new chapter for a major development unveiled in Mahogany in the second half of 2016.
Last year, Jayman Built raised the curtain on Westman Village. The unique 5.5-hectare development just south of Mahogany Lake includes plans for boutique retail, two restaurants, club amenities, and 864 homes.
There are four housing segments at Westman Village, including apartment-style condos at Calligraphy, estate bungalows at Reflection, choice rentals at Lyric, and an "adult living" component called Journey Club, which will be released this month.
One of Journey Club's three buildings includes medical care, meal planning, pharmaceutical care, physician care, activity and wellness co-ordinators and dietitians. These amenities are also available in the other two buildings as an a la carte service.
"What we urge people to remember is 'you can plan ahead for this,' " says Lisa Feist, vice-president of sales and marketing for Jayman Built Multi-Family. "It doesn't have to be a reactive environment. You don't have to wait until life gives you some sort of critical event … plan ahead. Pick a lifestyle choice and bring that enhancement into your life now."
The centrepiece of Westman Village is its sophisticated 35,000-square-foot Village Centre that's now under construction.
While it may not be "fully fit and finished," says Feist, "We anticipate being able to tour our Village Centre at the end of the year. That's an important milestone for us."
The centre boasts a wine cellar, arts and crafts centre, woodworking room, fitness, spin and hot yoga facilities and two swimming pools — one for lane swimming and aqua aerobics and another that connects to a two-storey waterslide.
There's also an indoor garden, library, terrace, multi-purpose room, movie room, golf simulator, party room with a wet bar, games room, running track and half-court gymnasium.
"Because that's such a special part of the amenity set on the property, we think that's actually going to be the time people just go 'I can't miss out on this,' " says Feist.
The newest community by Melcor Developments, featuring an opening release of apartment-style condos and townhomes, will also come to market in 2017.
Pre-construction sales on the first two developments at Greenwich are expected to open late spring. The community, expected to have nearly 900 residential units at build out, will debut with townhomes through Landmark Homes and apartment-style condos from Cove Properties.
The community is expected to have about 200,000 square feet of retail and 150,000 square feet of office space.
"Located in the highly desirable northwest quadrant of the city, it represents an accessible urban hotspot that is the perfect solution for single professionals, young families, and right sizers alike," says Catharina Mendonca, marketing manager at Melcor.
"As it sits en route from downtown Calgary to the Rocky Mountains, it will straddle the city-mountain divide and provide immediate access to the riches of the Bow River Valley."